Other Products: Centrifugal Food Processor (Industrial Use)
Features of Centrifugal Food Processor
Our original Design of "Double Centrifugal Force Mechanism" realizes the various food processing,, such as the mixing of the flour of Pasta/Noodle in the best conditions, the separation of pulp and juice of fruit and etc.
Designate only for the industrial use.
Selectable from 3 sizes (large, medium & small) according to the application.
NOTE: This product is limited in Japanese Market only at present.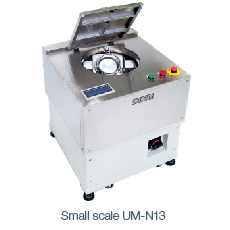 Download Catalog: Centrifugal Food Processor